Our Mission
Echo Speech began in 2010 with a mission to provide all parents, caregivers, teachers and other professionals the tools to help all children thrive in their communication development.
The core values of Echo Speech resonate in how we work and reflect who we are in our profession and as individuals.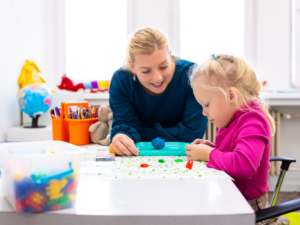 Connect - We cultivate strong connections between clinicians and the families we work with, as well as with our team, so that we can provide a service built on trust and communication. Connections are essential to growth and development and it's our number one priority when we begin working with children.
Care - Speech pathology is a profession with an emphasis on care. We dedicate ourselves and go the extra mile because we care about your child. It's what drives us to do our best.
Communicate - Our whole business revolves around communication. We pride ourselves in how we communicate with the client and with each other.
Courage - The team at Echo Speech all have the courage to start, to progress and to try new things. We're constantly chasing our best outcomes and we're not afraid to take risks to reach our goals.
Echo Speech is a Medicare provider, NDIS registered and recognised by Private Health Insurers. Contact us to find out more about funding options.